Q: What is Sunnyville Stories?
A: Sunnyville Stories is a small-press comic about a BIG world!
Q: No, seriously, what is Sunnyville Stories?
Sunnyville Stories is an independent print comic series created by myself, Max West.  It's a slice-of-life comic that tells the story of two teenage anthropomorphic cats, Rusty Duncan and Samantha "Sam" Macgregor.  They reside in a small village known as Sunnyville, a remote village where the animal inhabitants dress traditionally.
Q: Where did you get this idea?
A: To develop this series, I drew upon my personal experiences and a 1980s anime series called Maple Town.
Q: So, who exactly are you?
As for myself, you can call me Max West.  I'm presently live in North Carolina, I trained at the School of Visual Arts, and I love to draw.  I've been making comics all my life.
Q: What's this blog about then?
On this blog, I intend to  talk about my comics, the characters, their backgrounds, and how the ideas developed.  In addition, you'll see how I make comics, what tools I use, my working process, and insight into the world of visual art.  If you like reading comics or seeing how they're made, then this is a valuable blog for you.  I'll talk about tips on making comics, promoting yourself…and just maybe, I can inspire you to be your best or even starting making your own comics.
Q: What credentials do you have?  Have your comics/blog achieved anything?
A: This blog actually made editor's choice pick over on Blogville.us!  The second episode of Sunnyville got a promising review over on Optical Sloth as did the third episode, fourth episode, and fifth episode of the series!  On top of all that, the first printing of the first Sunnyville trade paperback has also been reviewed by the Library Journal!  As for me, I've been a guest speaker at the Long Island, NY science fiction convention I-CON.  Plus my work has been exhibited at the art shows of Anthrocon, Further Confusion, and Rocket City Furmeet.  There's a bit more about me in this post too.
Q: Where can I buy this neat comic of yours?
A:  Just go over to the store – you can buy copies through Indy Planet.  I'm still working on getting my comics into actual brick-and-mortar comic stores and selling them at conventions.  Stay tuned to this blog for more details!
Also check out this cool promotional video.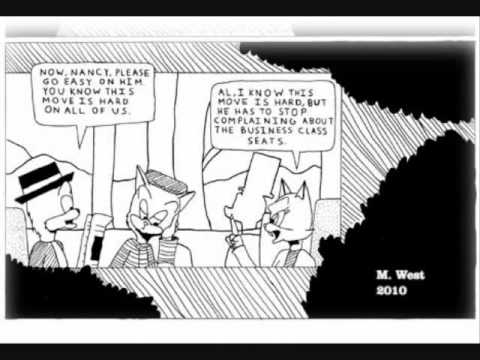 My comment policy is this – I do not allow profanity, verbal threats, or abuse of any kind.  Savvy?
IMPORTANT!  – All intellectual property on this page pertaining to Sunnyville Stories (unless otherwise stated) remains the sole property of Max West (that's me).  So don't even think of stealing any of this work and passing it off as your own!
Sunnyville Stories is dedicated to two important individuals – Jared Hintz and Benjamin Rodriguez, two people who believed in me when I did not believe in myself.
This weblog and comic is dedicated to the memory and magic of Len Carlson (1938-2006) and to Rusty Haller (1964-2009).